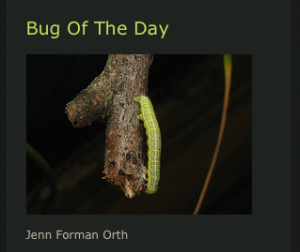 Add a bug to your blog!
Bug Of The Day is a WordPress plugin that creates a Bug widget which you can add to your sidebar. The widget displays the latest photo in Jenn Forman Orth's Bug Of The Day series. Most photos are from her back yard in Massachusetts, the creepiest back yard in America.
To add this to your blog, click Add New in the Plugins section of your blog's admin screen and search for Bug Of The Day. The WordPress Plugin Directory has more info. If you install the plugin, please go there and give it a rating and compatibility feedback.